Nature and Nationalism amid War: Kachin, Burma, China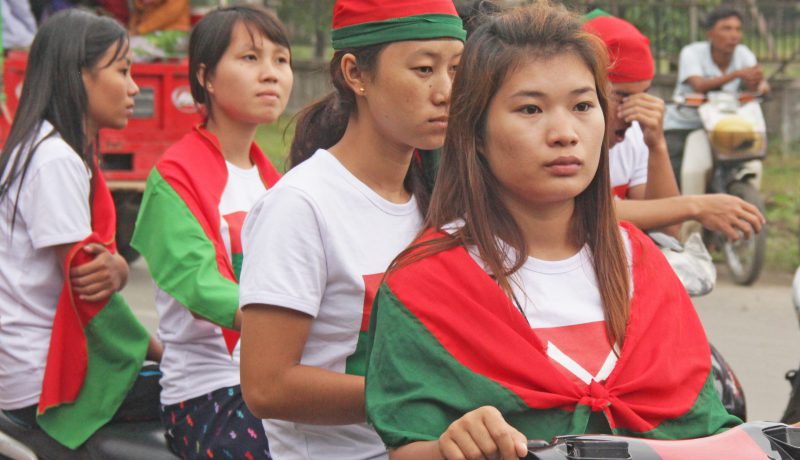 Global environmental crisis, revival of nationalism, and China's rise are each changing our world. But how do they connect?
I explore these connections in a large but understudied region where China and India meet the long wars of Burma (Myanmar), a country that has not had a day of peace since the Second World War. These subtropical highlands are a patchwork of Christian and Buddhist peoples and nationalist movements, amid exceptional natural resources and biodiversity.
Specifically, I have since 2010 done ethnographic research among Kachin people, focusing on their war-time encounters with: 1) the Burmese inter-ethnic conflict; 2) Chinese-led natural resource economies; and 3) Western-led biodiversity conservation.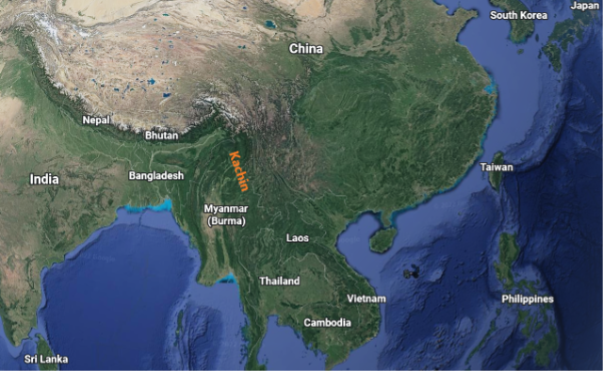 General area of Kachin people between Burma and China
For example, my research asks:
How do stateless nations create independence and do international politics, especially in ethnically mixed lands? How does Christianity connect with nationalism? During field research, I learn how diverse people live between the Kachin Christian national movement, Burma's long military oppression, other ethnic groups, and China's recent rise.
How do ethnic politics connect with environmental politics? In the Kachin region, militaries and companies are grabbing vast natural resources, sending them mostly to China. Resistance has emerged, including from a Kachin nationalist environmentalism. My studies span the industrial mining of jade, gold, amber, and rare earths; hydropower mega-dam projects; logging of rainforests; and plantations of banana, rubber, and opium.
The Kachin region's ancient rainforests and exceptional wildlife have attracted international nature conservationists. How do protected areas work amid military oppression and ethnic conflict? How to connect biodiversity conservation and social science? I study the Hukawng Valley's "world's largest tiger reserve," the Indawgyi Lake and wetland, and the Hkakabo Razi Himalayan "icy mountains."
My publications have explored Kachin nationalist views on natural-resource grabbing; and the Kachin, Chinese, and Burmese sides of the international controversy over the Myitsone Dam mega-project.
Publications
Nationalism and Natural Resources:
2016. Conspiracy, God's Plan, and National Emergency: Kachin Popular Analyses of the Ceasefire Era and its Resource Grabs. In War and Peace in the Borderlands of Myanmar: The Kachin Ceasefire, 1994–2011, edited by M. Sadan, 205–235. Copenhagen: NIAS Press. http://kachinceasefire.weebly.com/laur-kiik.html.
The Myitsone Dam Mega-Project:
2020. Confluences amid Conflict: How Resisting China's Myitsone Dam Project Linked Kachin and Bamar Nationalisms in War-Torn Burma. Journal of Burma Studies 24 (2): 229–273. doi.org/10.1353/jbs.2020.0010.
2020. Inter-National Conspiracy? Speculating on the Myitsone Dam Controversy in China, Burma, Kachin, and a Displaced Village. Geopolitics [online first]. doi.org/10.1080/14650045.2020.1808886.
2017. (co-authors: Foran et al). Large Hydropower and Legitimacy: A Policy Regime Analysis, Applied to Myanmar. Energy Policy 110: 619–30. doi.org/10.1016/j.enpol.2017.08.043.
2016. Nationalism and Anti-Ethno-Politics: Why 'Chinese Development' Failed at Myanmar's Myitsone Dam. Eurasian Geography and Economics 57 (3): 374–402. doi.org/10.1080/15387216.2016.1198265.