Tokyo College under the Covid-19 Crisis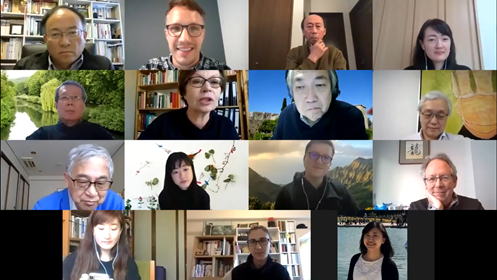 April 2020 was supposed to mark a memorable month for Tokyo College. This was because entering the second year from its establishment, besides adding a new Project Professor MINO Takashi, Tokyo College was expected to see the arrival of many new members of fresh project assistant professors, postdoctoral researchers and project researchers. Moreover, scheduled to receive four new invited members from overseas during the period of April and May alone, we were eagerly willing to fully engage in joint researches, public lectures and other activities in the College. Furthermore, we also wished to take a commemorative group photo of all members at the beginning of the second year. However, we had to make substantial changes to such plans due to the Covid-19 crisis.
While we had already given up holding public lectures in March, all public events scheduled in April and after were postponed because invited members put off visiting Japan one after another. After the state of emergency was declared on April 7, faculty members were strictly restricted on entering the campus, and as a result, all staff became to work from home unable to directly speak with new members.  
However, this working from home generated a byproduct which we had not expected initially. It is the online workshop which brings together all researchers belonging to the College. According to the records, we held the first meeting on April 3, totaling 13 workshops by today (May 27). In addition, there are two more workshops scheduled by the end of May going forward. They have been held at a considerably high pace, considering that there were Golden Week holidays in between. The contents of workshops include the workshop on identity which we have continued since February, the Corona Forum to discuss the Covid-19 crisis, and the introduction of researches by new researchers who have joined recently. We initially thought about holding them once every two weeks, but were pleasantly surprised to see that everyone was eager to make a report, resulting in holding two workshops every week now.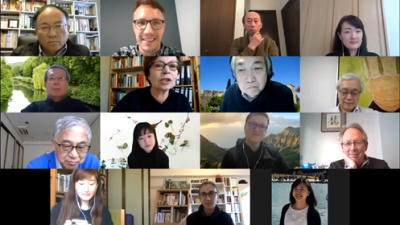 Professor Eschbach-Szabo who temporarily returned to Tübingen in Germany and became unable to come back to Tokyo, as well as Deputy Director of the College SANO who has been stuck in Shanghai can also attend the meeting easily if it is held online. As everyone is "staying home," most of researchers currently belonging to the College, 15-16 of them, are always participating in this two-hour long online meeting.
I am really fortunate and pleased to have been able to participate in the circle of frank, sincere, constructive, friendly and fascinating exchanges beyond their research fields by researchers who had little contact each other until this April and have not yet met in person. While many researchers are majoring in humanities, they vary from linguistics, to history, anthropology, sociology, economics, and area study, and in addition, researchers of physics and environmental study often jump in discussions. Since identity and Covid-19 crisis themselves are transdisciplinary themes, they can continue such vigorous and fascinating workshops.
Plans for three events scheduled to be held by Tokyo College under the title of the "Corona Forum" in June have been generated naturally from discussions of such workshops. We will inform their details one after another on this website or SNS: The first event will be an International Roundtable "Living through a Pandemic – Reassessing the Covid-19 Crisis around the World -" on Tuesday, June 2.
There was also a pleasant surprise for this round table. In addition to three members - Bill Emmott, Svante Lindqvist, and Park Cheol Hee – who visited Tokyo College last fiscal year and lectured, Professor Jeremy Adelman who is scheduled to come to Tokyo College this fall, and Professors Viktoria Eschbach-Szaboand and HOSHI Takeo, who are currently belonging to Tokyo College, have readily accepted my request for attending the roundtable to discuss the Covid-19 crisis in an international setting. I am really grateful. This event is also an international gathering of Tokyo College family members in a sense. 
During the last fiscal year, public lectures using the venue in the university campus provided the major contact point between College and the general public. Unable to use such method due to the Covid-19 crisis, we have been considering many possibilities as to what approach we should take in the last two months or so. Online lectures and symposiums are one of our answers. These are the first experience as Tokyo College, for which we must admit having some technological concerns. However, we have concluded this is the best method in order to deliver fresh, fascinating and meaningful knowledge to students and general public as quickly as possible.
Thanks to superhuman efforts by Project Researcher WANG Wenlu, the lecture video of Professor GE Zhaoguang has been completed and already released on the website. On Monday, June 8, we plan to deliver the online dialogue between Professor GE Zhaoguang and Associate Professor SUGIYAMA Kiyohiko (Graduate School of Arts and Science). We would like to try some other possibilities, taking into account of the responses of those who have watched the Corona Forum and this online dialogue.
In summary, there have been "pleasant surprises" for us one after another in the last two months due to the Covid-19 crisis. April 2020 became a very important and memorable month which in a sense was different from what we had initially thought of. I would sincerely request your further support for Tokyo College in its second year.