Future Earth – addressing Planetary Boundaries from Japan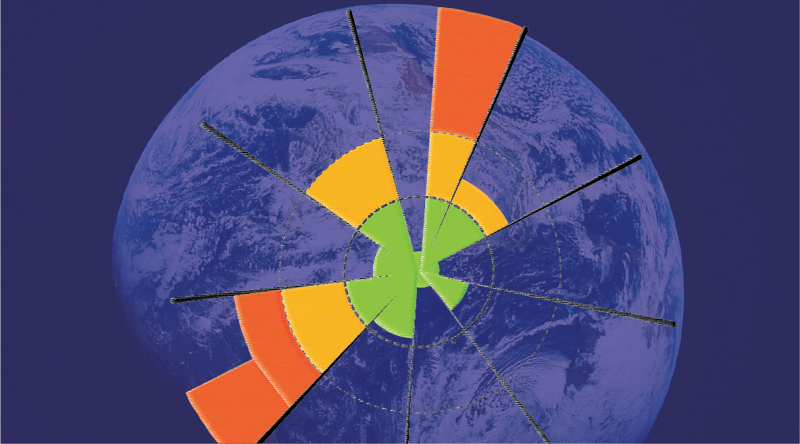 Authors
Dr. KASUGA Fumiko

TANI Junya

Visiting Professor at Institute for Future Initiatives, The University of Tokyo, Senior Fellow at the National Institute for Environmental Studies and Future Earth Global Hub Director – Japan

Senior Advisor at Future Earth, Tokyo Hub,

Senior Researcher at Center for Global Commons, Institute for Future Initiatives, The University of Tokyo
The crisis of the global environment is not just limited to warming, and warming cannot be prevented by energy conversion alone. For the sustainable development of human society, it is essential to maintain the stability and resilience of the entire global system that supports the biosphere, and for that purpose, a major transformation of the entire social and economic system is required. Japan also needs an appropriate strategy to deal with the global environmental crisis and changes in the world. Planetary Boundaries provide the basic perspectives at that time. Furthermore, it is necessary to understand the "earth system" behind it and think about "transformation of the social and economic system" as a stewardship.
The global environment is a complex system (Earth system) in which various biophysical processes are intertwined. The stability of the Earth system, which has supported the development of human civilization during the Holocene of about 12,000 years, is a prerequisite for the sustainability of human society. But now there is an increasing risk that its stability will be irreversibly lost. Planetary Boundaries are guidelines that scientifically and quantitatively indicate the most important processes (subsystems) of the Earth, such as climate, biodiversity, and biogeochemical cycles, and the extent to which their stability can be maintained. For the stability of the Earth system, it is necessary to fundamentally transform the socio-economic system under global cooperation so that each subsystem functions stably within the Planetary Boundaries.
This is a comprehensive and strategic approach to taking high priority actions in a limited amount of time, based on an understanding of the Earth system. Socio-economic actors, such as governments and businesses, can take actions that can truly contribute to the sustainability of the planet and human society by understanding and building on the framework of this approach. Specifically, it is necessary to make changes in energy (decarbonization), food system (land use, agriculture and fertilizer, fishery), a transition to a recycling-oriented economy, and cities (production, residence, transportation mechanism with less environmental load). What enables effective transformation is governance, including international treaties and rules, and investment and economic systems, and integrity that give incentives (or may impose restrictions on activities) to each sector of society, sincere dialogue, and finally "science" that provides evidence for all processes.
For Planetary Boundaries, we will continue to collect more scientific data, including literature that exists in our native language around the world, and it is necessary to continuously evaluate and update the stable scope and current status. The Earth Commission is responsible for collecting, evaluating, organizing, and providing scientific data to users on a global level. This time, it is also related to the "Center for Global Commons" established at the Institute for Future Initiatives at the University of Tokyo. On the other hand, countries and regions are working to collect unique scientific data in order to comprehend Planetary Boundaries under national and regional conditions. Knowledge of the humanities and social sciences and knowledge of analyzing and predicting the economy are also necessary for the transformation of the social and economic system.
Future Earth is an international research program aimed at facilitating a transformation into a sustainable world through research and innovation. It is characterized by the production of integrated results of research through collaboration across academic fields such as the natural sciences and humanities and social sciences, and collaboration from the research planning stage with related parties (stakeholders) in society. Basic science related to the Earth system such as ecosystem, marine, atmospheric chemistry, and research organizations related to health, economy, consumption and production, risk governance among others are expanding internationally. Future Earth's role is to "spin integrated research results" that cannot be created by a single scientific field by bundling research results in a wide range of fields. At the time of the COP of the United Nations Framework Convention on Climate Change, in addition to publishing the "10 New Insights in Climate Science" with the Earth League every year, it also publishes a roadmap for when and how much each industrial sector should contribute in order to achieve the carbon dioxide emission reduction target. Future Earth provides scientific secretariat support for the aforementioned Earth Commission. In Japan, the Science Council of Japan has committees and subcommittees related to Future Earth, and 36 institutions including universities, companies, and citizens' groups will participate in the Future Earth Japan Committee. In addition, a part of Future Earth's international secretariat has been set up at the Institute for Future Initiatives at the University of Tokyo and Research Institute for Humanity and Nature. Unprecedented scientific collaboration and cooperation centered on Planetary Boundaries are needed to promote the transformation of social and economic systems. Since similar methods should be able to be used for quantitative goals and target setting and achievement evaluation of SDGs, future academic development is also expected. Professor Norichika Kanie of Keio University Graduate School also participates in the aforementioned Earth Commission as a member. There is an urgent need to back up the efforts of the Earth Commission from Japan and produce unique results in Japan as well. To that end, we look forward to the leadership of the University of Tokyo and participation in Future Earth.
Authors' Bio
KASUGA Fumiko has worked as a government researcher in the field of public health, in particular on microbiological food safety in the Ministry of Health, Labour and Welfare of Japan. Internationally she has worked with the World Health Organization, Food and Agriculture Organization of the United Nations and the International Commission on Microbiological Specifications for Foods. She was a Vice-President of the Science Council of Japan in 2011 – 2014, when she was engaged in initiating Future Earth in Japan, and is in the current position since 2016.
TANI Junya is engaged in various activities to tackle the sustainability issues of the earth system and humanity applying his knowledge and experiences from his business career. After graduation from the University of Tokyo (Bachelor of Laws), he worked for several global financial institutions (Bank of Tokyo (currently MUFG), Citigroup, UBS, Credit Suisse, and DBS) for many years. After retirement from the business, he has been engaged in various social activities including welfare for mentally and intellectually disabled persons, education, and local community revitalization. In 2018, he started his activities regarding sustainability matters as he translated "Big World Small Planet" by Johan Rockstrom and Mattias Klum into Japanese together with Dr. Naoko Ishii and Institution for Global Environmental Strategies (IGES). He is now engaged in various organizations tackling sustainability issues including Future Earth, Tokyo-Hub, Center for Global Commons of the University of Tokyo, and World Economic Forum's Global Future Council on Japan.