Mark Bookman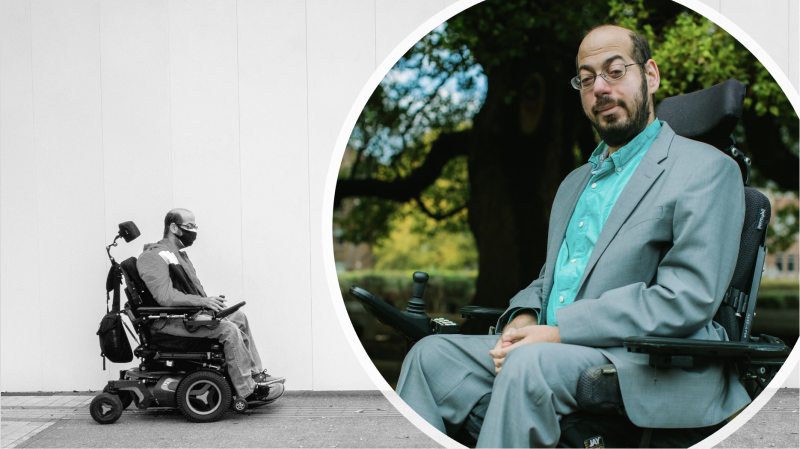 On the morning of Friday, December 16th, Tokyo College Postdoctoral Fellow Mark Bookman passed away. He was only 31 years old. When I received the news that afternoon, it was so sudden that I could hardly believe it. At an online research meeting on Wednesday the 14th, just two days prior, he made keen observations with a smile as he always did.
Dr. Bookman joined us at Tokyo College in June of 2021 after successfully navigating an open call for postdoctoral fellows that had a less than 3% success rate. I met him for the first time on the day his appointment began. He appeared at the office in a wheelchair and was so full of life and intellectual curiosity that I would not have guessed he had an incurable illness and had undergone a heart transplant at a young age. We exchanged only a few words that day, but it was plain to see that he had a deep interest in the history and current state of disability issues in Japan and had many excellent research projects in mind related to this topic.
Since the beginning of the COVID-19 pandemic in spring 2020, all but a few of our collaborative research meetings at Tokyo College have been held online. This arrangement suited Dr. Bookman well, as he experienced a physical disability that affected his mobility. He participated without fail in numerous meetings on topics such as "Aging Society," "The Future of the Humanities," "Identity," as well as researcher self-introduction presentations. His thought-provoking comments and questions that were anchored by disability, discrimination, and diversity as key concepts were truly informative and eye-opening. It is not easy to constructively critique the work and perspectives of other researchers. However, many of Dr. Bookman's questions and comments were meant to broaden the perspective of the presenter and add depth and breadth to their topic. I always looked forward to his sincere yet warm remarks.
Not only did Dr. Bookman take part in workshops and seminars, but he also demonstrated an uncompromising drive to share knowledge with society, one of the goals of Tokyo College. He organized an online, multinational panel discussion entitled "Eugenics Legacies in Japan: Revelations, Reparations, and Representation," and he also conducted an interview with Judith Heumann, an early leader in disability rights activism. Videos of Dr. Bookman speaking in his own words about the issues and outcomes of his research are available on the Tokyo College YouTube Channel, and we will preserve these records for years to come.
Dr. Bookman was also passionate about educating the next generation. This year, he taught a seminar entitled "Global Accessibilities: Lessons in Sustainable Development from Japan" for first- and second-year students in the College of Arts and Sciences. He was also responsible for a session in a different seminar that he co-taught with some of Tokyo College's early-career researchers titled "Who am I? An introduction to identity studies." His lectures, which he always opened with the question, "Have you ever had a disabled teacher?" were immensely memorable, according to colleagues who attended.
As the Director of Tokyo College, I received numerous e-mails from Dr. Bookman with inquires, requests, and suggestions. His personality permeated his writing style, which was always courteous and humble. In spite of his various physical disabilities, he was always composed, positive, and cheerful. He was a person of noble character who was never selfish and always showed consideration for others. I feel very fortunate to have known and shared this time with Dr. Bookman, even if it was only a year and a half.
Dr. Bookman worked with passion to conduct and share research that would make universities, Japanese society, and the world a better place for all people to live. I hear that he was also close to publishing a book of his own. His death is a great loss not only to the University of Tokyo and to academia, but also to Japan and the world as a whole. An irreplaceably talented researcher, activist, and person has left us, and it is with deep regret that we mourn his passing.
The researchers of Tokyo College have truly learned a great deal from Dr. Bookman's life and intellect, both as a person and as a researcher. We owe him an immense debt of gratitude, and in return, we will never forget him, and we will carry on his aspirations to produce research that has an impact on society.