Our Fourth Spring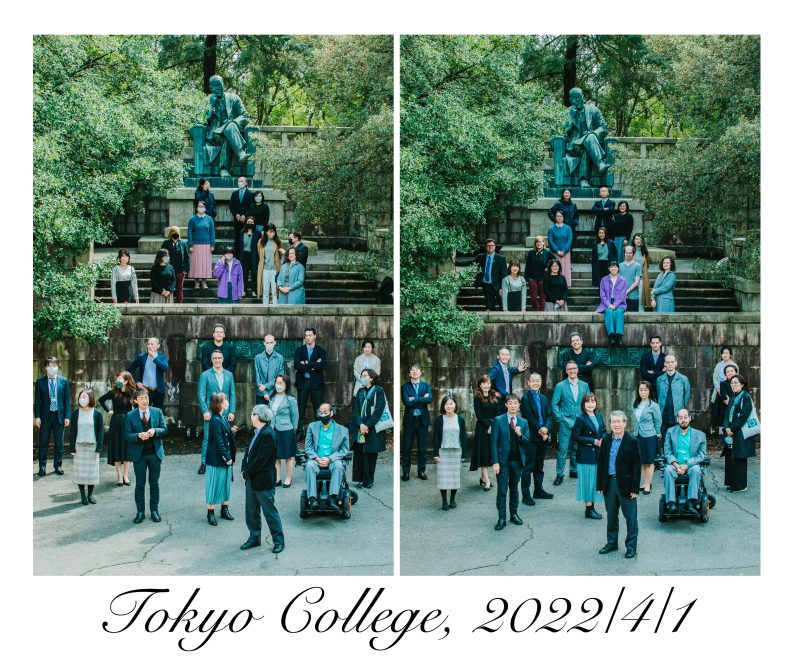 This month, Tokyo College welcomed its fourth academic year since its founding in February of 2019. As I noted in the blog titled "Graduate No. 1" from this past February, Tokyo College has grown steadily over the last three years thanks to the tremendous help and support we have received from numerous people.
As of April 1st, we have a total of twenty early-career researchers at Tokyo College: one associate professor, two project assistant professors, twelve postdoctoral fellows, and five project researchers. Compared to April of last year, our number of postdocs has increased by six, and another three are expected to join us from overseas within the year. This photo will perhaps give you an idea of the current state of things at Tokyo College, where researchers from a variety of backgrounds come together with staff members who support their activities. Next year, once international travel has returned to normal, we expect to invite a number of senior distinguished researchers from abroad to add to our numbers.
In March 2020, just when Tokyo College was about to begin welcoming in earnest researchers from abroad, the spread of COVID-19 made academic exchange that involved travel difficult. At that time, we had already decided to invite nearly twenty senior distinguished researchers, but those plans were postponed. For Tokyo College, whose mission is to promote international exchange, the situation suddenly turned deadly.
However, we managed to overcome this unforeseen difficulty and welcome a number of postdoctoral fellows one after another for three-year appointments. This is due in no small part to the efforts of Tokyo College's administrative staff. The staff members on the invitation team communicated not only with the incoming researchers, but with MEXT, the Ministry of Foreign Affairs, foreign embassies and consulates, the Immigration Services Agency and other related ministries and agencies, the quarantine offices at the airport, the lodgings where the researchers would be quarantined, and relevant departments within the University. After much trial and error through countless emails, phone calls, and a lot of paperwork, we managed to succeed in inviting these early-career researchers.
Once a researcher actually arrives, they still need a wide array of assistance to ensure that they are able to smoothly begin their life as a researcher here in Japan. The administrative staff has been faithfully engaged in various of support activities, including, for example, helping researchers find housing and accompanying them to ward offices and banks to complete the necessary procedures. Today, Tokyo College is home to twenty outstanding early-career researchers (of which, only three are Japanese citizens) thanks to the dedicated work of the administrative staff. I am sincerely grateful to them.
If you have seen our Tokyo College member page, you may have noticed the portraits of our administrative staff. In other academic units, the names and photos of administrative staff are not listed at all. This is perhaps due to the idea that administrative staff should be inconspicuous, behind-the-scenes supporters. However, each and every one of them is an important part of Tokyo College. The researchers and administrative staff are the two wheels that ensure that the operations of Tokyo College proceed smoothly. When designing the website, I had no choice but to include them.
Two members of the administrative staff who were first assigned to Tokyo College in April 2019 were transferred to other departments at the end of this past March; they were SAIKI Chihiro, who was in charge of the invitation team, and KOBAYASHI Masao, who handled the accounting and finance side of Tokyo College's operations. For me, these two individuals have been deeply valued colleagues since the founding of the College, and they have provided me with tremendous help in many situations. Though it may be a common practice within the University, it was a true shame that we had to part ways after three years. I hope that the both of them are able to make use of their experiences at Tokyo College to thrive in their new positions.
In April, we welcomed two new highly qualified administrative staff members. We are highly grateful to the tremendous they have put in so soon after beginning their appointments, including the work involved in the urgent acceptance of Ukrainian researchers. Tokyo College was designed to achieve what other departments at the University of Tokyo cannot. Our staff members are unable to be bound by convention or tradition. In order to make Tokyo College even more attractive as an institution for research, it is necessary that we come up with our own ideas and then figure out how to make those ideas a reality. For that reason, the College is perhaps demanding as a workplace. However, I believe that all of the employees who currently belong to Tokyo College feel that they are working in a worthwhile place.
With the easing of restrictions on overseas travel, we will soon be receiving a number of visits from overseas researchers and intellectuals. In May, we are planning to hold our first on-site event in two years. The number of places that need staff support will likely continue to increase. I look forward to working together with our highly motivated staff to take on a variety of new challenges in the year ahead.