Tokyo College researchers awarded JSPS Grants-in-Aid for Early-Career Scientists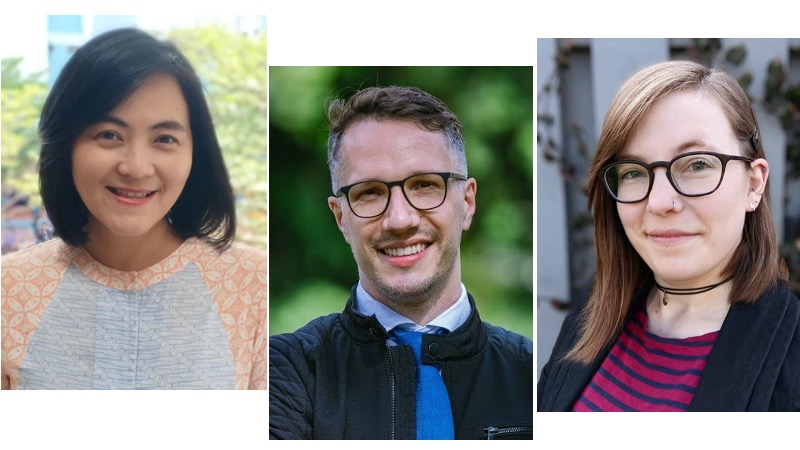 We are pleased to announce that Associate Professor Michael FACIUS, Postdoctoral Fellow Rosita SAMSUDIN and Project Research Hannah DAHLBERG-DODD have each been awarded a Japan Society for the Promotion of Science (JSPS) Grant-in-Aid for Early-Career Scientists.
Associate Professor Michael FACIUS was awarded the grant for a project titled "Rethinking the future of the humanities through emerging collaborative practices."
Project summary:
This project argues that the ongoing debate on the crisis and future of the humanities is occupied with the question of the value and utility, funding and politics, and does not engage enough with the question whether the scholarly practices that center research projects of individual academic researchers in university departments is still adequate for contemporary and future society. Simultaneously, new collaborative practices are already emerging, in inter- and transdisciplinary humanities-led research institutes; in non-university humanities institutions; in the digital humanities; in the public humanities; in the indigenous humanities; in new teaching formats; and in humanistic research on YouTube. This project will carry out a multi-modal analysis (participating observation, interviews, media analysis) of selected cases of collaborative practices in the forums listed above to understand how they influence knowledge production and how traditional humanities research can adapt to reclaim new relevance.
Postdoctoral Fellow Rosita SAMSUDIN was awarded the grant for a project titled "What kind of green space stimulates social capital formation in the context of high-density urban environments?"
Project summary:
Social capital is essential for human well-being. But, high-density urban living can lead to social capital decline. Urban green spaces help to stimulate social capital formation. However, there are relatively few studies investigating the relationship between urban green space and social capital. It is often unclear if social capital is associated with physical attributes of green space or other aspects such as design characteristics and perceptions of green space. This project aims to investigate the roles of urban green space in fostering neighborly social capital in Tokyo. It is among the forefront studies that investigate the relationship between urban green space and social capital in the context of high-density urban environments by synergizing the knowledge of urban planning, urban ecology, and social sciences. The findings contribute to green space planning in striving for stronger social capital among urban dwellers.
Project Researcher Hannah DAHLBERG-DODD was awarded the grant for a project titled "Language, sociality, and Japanese popular media in the 21st century."
Project summary:
Popular culture media products contain a wide range of linguistic variation, making use of linguistic features that are uncommon elsewhere. As a result, research on mediatized linguistic phenomena can provide insight not only on the possibilities of linguistically conveyed social meaning, but also on the question of what relationship consumption of popular media has with linguistic creativity, linguistic perception, and broader identity and social practices on the part of media consumers.
Building on previous research on language use in media, this project seeks to explore how people relate to the media they consume, how that media affects their linguistic choices in social interaction, and how media language is used for the performance of novel, playful identities. Using a multi-faceted approach that incorporates textual analysis, sociolinguistic interviews, and participant observation, this project will expand the scope of research on language in media by analyzing not only the media in which a fictionalized language variety occurs, but also its broader life cycle in popular media forms, providing a more holistic perspective on the interaction between language, media, and consumer.
JSPS Grants-in-Aid for Scientific Research <Kakenhi> are awarded on a competitive basis and are intended to significantly develop all scientific research, from basic to applied research in all fields. The grants provide financial support for creative and pioneering research projects that will become the foundation of social development.