Utility Charge
Paying utility (gas, electricity, water) bills in Japan
If you live in the public apartment/house, every month the meter readers for gas, electric, and water come to your apartment and read the meter. The meters are all outside the apartment in a box on the wall. The reader reads the meter, prints off a service statement and posts it in your post box. This service statement tells you how much the bill for that month will be.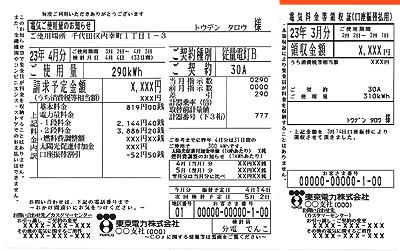 Paying-in-slip
About a few weeks or so later, the actual bill arrives in your post box. To pay it, you can take it to a convenience store which handles bill payments. They'll scan the bill and take the money from you (some stores, you may have to press a green button on the touch screen monitor.) They then tear off the stamped receipt and give that back to you. Please keep it for a while as a proof that you have made the payment.
Automatic Debit
Besides paying your utility bills by the due date at banks, post offices, or convenience stores, you may also set up an automatic debit from your bank account to avoid missing the due date. Major credit cards are also accepted.
Gas Company
In Japan, gas is provided by a private company. Also, there are two kinds of gas  - city gas and propane gas. To start use, you need to make an application to contract with the gas company in the area of your residence (Tokyo Gas for Tokyo metropolitan area) via phone or internet (but it has to be made in Japanese). After making the application to the gas company, staff from the gas company will visit your new residence to open the tap with you.
Deposit for Propane Gas: If you use propane gas, a deposit must be paid in advance when the tap is opened, but it will be refunded at the time of relocation.
Last updated : December 17, 2020